At the end of the 1950s Günter Ringer began to refine the Dresden Timpani. The fine tuner was moved to the player's side, the pedal mechanism was given the long lever arm, and the cast-iron frame was replaced by a lighter aluminium construction. This is how the Berlin timpani was born, which still enjoys a worldwide reputation today. But Ringer sold his company, so unfortunately Berlin lost a direct successor.
DÖRFLER Orchestra Pedal Timpani
After extensive research, trials and elaborate development work, we achieved our goal. Today we can offer you timpani that have not only achieved the legendary ideal, but even surpass it in some important details.
Copper Kettle
The "heart" of the timpani is the copper kettle. Each one is unique, hammered entirely by hand from the cut to the finished kettle. The low and even thickness of the material over the entire surface of the kettle, which differs depending on the size of the kettle, and ensures a particularly easy resonance and the typical Berlin sound, which is unmatched in every register.
Improved Kettle-Frame Connection
Only DÖRFLER timpani have the edge of the kettle hammered directly onto the kettle ring. This results in an unrivalled transmission of vibrations to the aluminium frame. On the one hand, the sound behaviour of the kettle is enhanced, while on the other hand, the resonances are passed on to the podium floor, which is thus used as an additional resonance factor.
Mechanics
The proven mechanics are built with the greatest precision using modern manufacturing methods and, after high-gloss chrome plating, are assembled by hand with the utmost accuracy of fit. The result optimally supports your sense of sound. Rattling fine tuner grips, stiff pedals and irregularly shaped letters are a thing of the past.
CONFIGURATION
German or international formation
ratchet pedal system with extremely fine graduation
deep copper kettles, hand-hammered
all timpani with same height 83 cm, other heights on request
head protector with velcro fasteners
stage screws
fine tuner with 10 increments
tuning gauge
frame colour blue-black, red-black or light ivory, others on request
Optionals:
4 head arrestments
timpani on 4 castors, height 93 cm
3 wheels, retractable
timpani rebuildable German ⟷ international formation
flight case
SIZES
kettle size
range
52 cm
20"
f – c
54 cm
21"
e – b
58 cm
23"
d – a
60 cm
24"
d – g#
64 cm
25"
B – g
66 cm
26"
A – f
72 cm
28"
E – e
74 cm
29"
E – d
78 cm
30"
D – c
80 cm
31"
C – h
82 cm
32"
B – B
other kettle sizes on request
---
DÖRFLER Chamber Timpani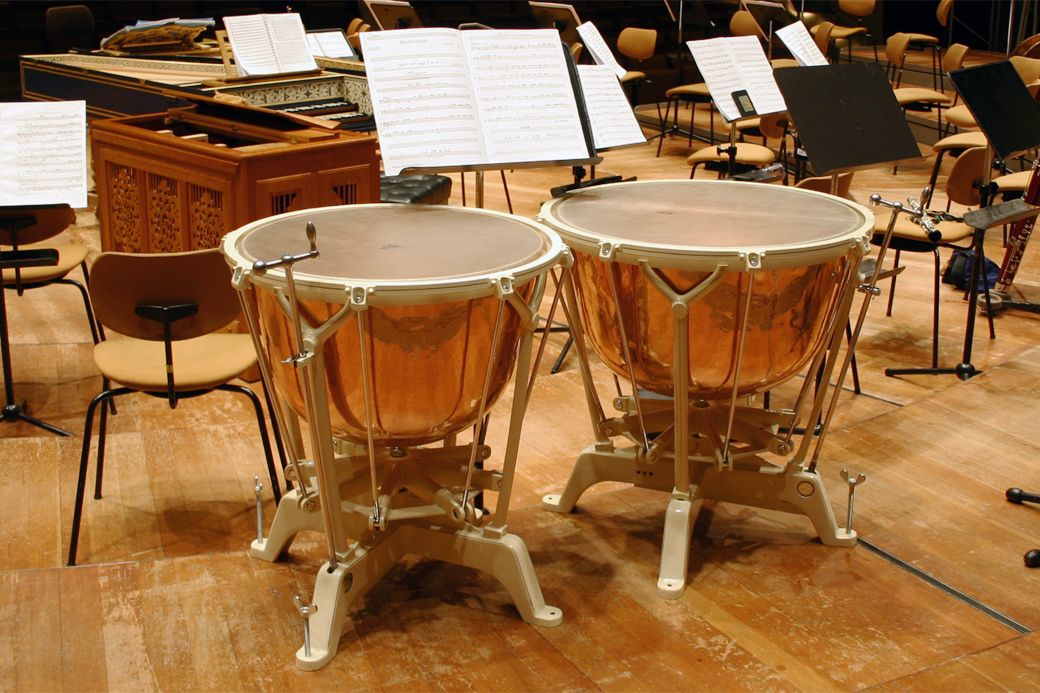 The same craftsmanship that goes into the production of our pedal timpani is also applied to our chamber timpani, adapting it to the specific needs.
The great romantic sound of our orchestra pedal timpani is not always called for. Chamber music instrumentations up to early classical music require a filigree sound with a more percussive attack.
DÖRFLER chamber timpani offer both with their specially developed smaller and flatter kettle dimensions. In addition, they integrate perfectly into smaller orchestras due to their more restrained appearance with reduced playing height.
CONFIGURATION
single tuner handle, adjustable
flat copper kettles, hand-hammered
timpani height 77 cm, other heights on request
head protector with velcro fasteners
stage screws
calf or goat heads optional
frame colour light ivory, blue-black or red-black, others on request
Optionals
4 head arrestments
timpani on 4 castors, height 87 cm
flight case
SIZES
kettle size
54 cm
21"
58 cm
23"
60 cm
24"
64 cm
25"
66 cm
26"
72 cm
28"
other kettle sizes on request
---
Timpani Service, Repairs & Restorations
Complete professional service for timpani of all manufacturers, starting with professional maintenance and the mounting of natural heads, through careful repairs, to the complete overhaul and restoration of modern as well as historical instruments.