Developed in response to the request of many musicians to revive the tradition of the Hamburg instrument maker Harms, DÖRFLER Symphonic Bass Drums combine handed-down traditions with today's state of the art.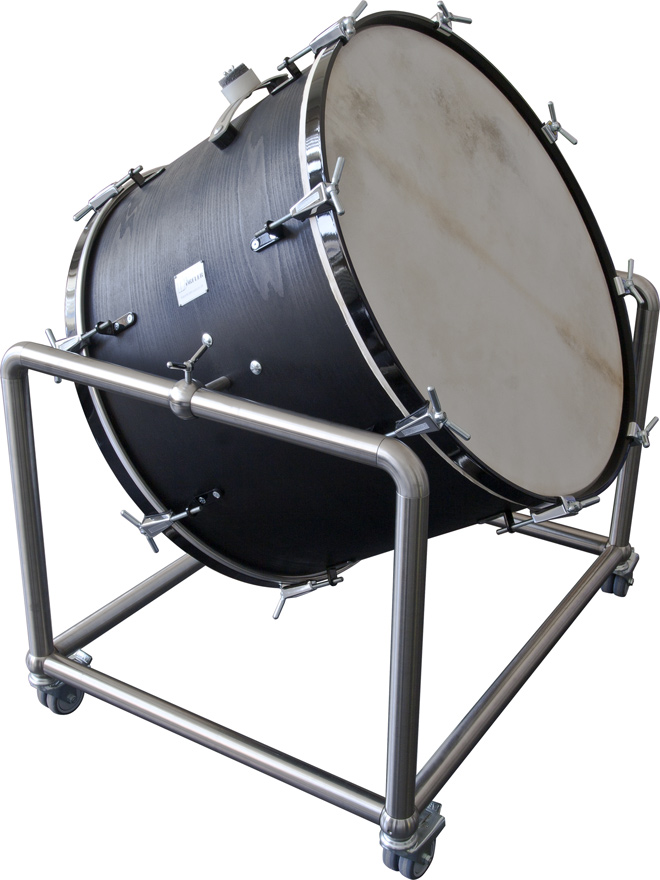 Shell
The birch shells, combined with the deep shell dimensions, are based on features that guaranteed a warm, full sound as long as 50 years ago, without lacking a rich, precise touch.
Mechanics
Solid steel flesh hoops and counter hoops allow only 8 tensioning screws. This makes tuning much easier and ensures even head tension.
Heads
With a free choice of heads — calf, goat, synthetic or a combination — the drum can also be adapted to individual sound preferences.
Stand
The stand is made entirely of stainless steel. Large corner connectors prevent any unwanted movement. Sturdy toggle handles allow safe and quick locking of the drum in any swivel position. On request, 2 or 4 totally lockable castors are mounted to facilitate transport.
CONFIGURATION
beech wood shell with reinforcing rings
black colour stain, satin wax finish
steel counter hoops
KALFO or goat heads (REMO Renaissance on request)
stainless steel stand on 4 castors with brakes
360° tilt adjustability
Optionals:
cymbal holder, adjustable
flight case
SIZES
Model
Shell diameter
BD 8156
81 cm x 56 cm
32" x 22"
BD 9060
90 cm x 60 cm
36" x 24"
Other sizes on request